After a prolonged period affected by the epidemic, Binh Duong's economy has shown signs of recovery, especially in the manufacturing, technical infrastructure, and real estate sectors. Specifically, rest assured when needed, manufacturers have resumed production and increased the pool for investment while real estate projects reinitiated construction. This results from the provincial government's appropriate policies and the thoroughly-implemented technical infrastructure, transportation, and industrial park network.
Thanks to the complete infrastructure and supportive economic policies, Binh Duong's real estate market has attracted much attention from investors across the country. Currently, property in Binh Duong is the most searched product in the southern market in the second quarter of 2021, increasing by 23% QoQ.
While FDI in some neighboring localities plunged due to the COVID-19 epidemic, the investment capital still flowed smoothly into Binh Duong Province. Despite the extreme impacts of the pandemic, FDI inflows to the Province have exceeded $1.5 billion this year. In breakdowns, 44 FDI projects have been newly registered with more than $482 million capital, and 23 projects have increased capital to over $799 million in total. Besides, 81 projects featuring capital contribution and share purchase register a total investment capital of $225.4 million. Notably, since the Province entered the new normal on 15th September, it has attracted an additional $14 million in FDI.
Embracing the current, Phat Dat Real Estate Development Corporation (HOSE: PDR) has restarted and accelerated operation after meeting all precautious measures against the pandemic. Typically, Astral City – developed by Phat Dat with VND 9,620 billion investment, is under construction with highly-intensive 3-shift work, ensuring both epidemic prevention and the expected handover in 2022. For this project, PDR chooses Central as the general construction contractor with extensive experience in large projects. Sharing on this matter, in addition to human resources, cutting-edge technology, Central has promoted investment in machinery, equipment, and technology to specialize and improve construction capacity, satisfying the highest standards.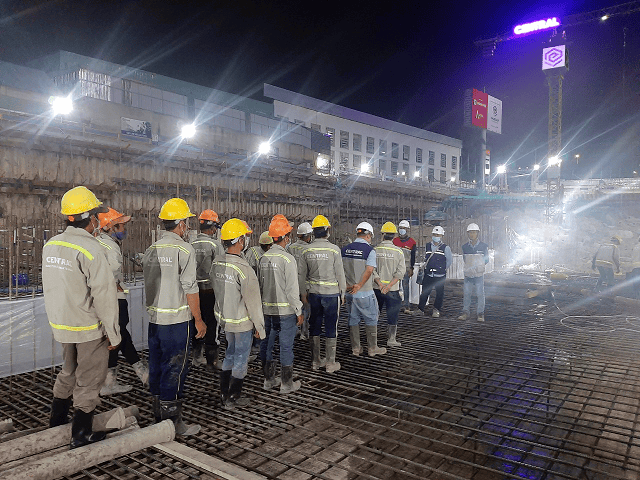 Besides Astral City, PDR also resumed the development of Binh Duong Tower in a 44,677.4 sqm site in the center of Nguyen Thi Minh Khai Street, Thuan Giao Ward, Thuan An City. The project connects Binh Duong Boulevard (National Highway 13) and nearby facilities such as VSIP Industrial Park (1 km), Viet Huong Industrial Park (3 km), Aeon Mall (1.8 km), and Binh Duong International Hospital (1.5 km). In their latest moves, PDR is working with reputable firms for speedy implementation. As planned, the total investment is VND 11,500 billion, and construction will start in June 2022; apartments will be handed over at the end of 3Q2024.
Hence, for the next 5-10 years, PDR will expectedly invest USD5-10 billion in promoting the residential and industrial real estate markets in Binh Duong Province. This significant investment will bolster the outstanding development of the residential and industrial real estate markets there and promote the economic recovery of the Province.