For the 5-year period 2019 – 2023, Phat Dat Real Estate Development Corporation (HOSE: PDR) sets an ambitious target with CAGR of 51%, bringing the total accumulated profit to VND 14,270 billion. Accordingly, in 2019 and 2020, PDR recorded VND 1,105.3 billion and VND 1,540.2 billion in pre-tax profit, constantly exceeding the given targets of VND 1,100 billion and VND 1,500 billion, respectively.
PDR is confident in exceeding 2021 business plan By the end of June 2021, the Company's pre-tax profit increased at an impressive growth rate of 82% YoY, reaching VND 637 billion. Due to the nature of real estate industry, revenue and profit are mainly recorded in the second half of a financial year. As such, the Company is confident in exceeding the 2021 plan as committed to shareholders, owing to the continuously growing inflows from Nhon Hoi Ecotourism City, Astral City, etc. Additionally, other outstanding projects such as Binh Duong Tower, Bac Ha Thanh, Phuoc Hai, etc., will enable PDR to maintain and promote the existing growth momentum in the future
Because of the Covid-19 epidemic outbreak in 2021, the Vietnamese economy in general, and the real estate industry in particular, have gone through a relatively rough and challenging year, especially in the southern provinces. However, thanks to a clear business strategy and the right direction of developing projects with quick capital recovery, Phat Dat has shifted its investment to coastal provinces and cities with great exploitation potentials since 2018. Prior to the pandemic, all products had been sold wholesale to partners, so the Company's business has not been significantly affected.
In the first six months of 2021, PDR recorded an accumulated revenue of VND 1,126 billion from a part of Zone 9's low-rise section and a part of Zone 4's high-rise section in Nhon Hoi Ecotourism City – Nhon Hoi Economic Zone, Binh Dinh Province. This featured project marks PDR's imprint in the Binh Dinh market and helps PDR continuously record high profit growth for FY2021 and FY2022.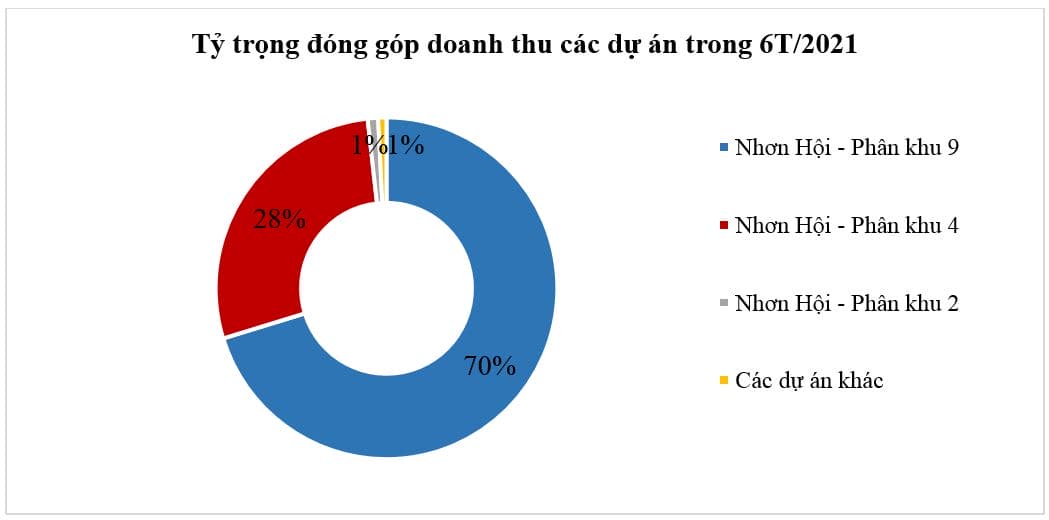 For 2H2021, PDR will continue to earn inflows from Zone 4's high-rise section and Zone 9's low-rise section inside Nhon Hoi Ecotourism City. Apart from that, Astral City Apartment & Commercial Complex also contributes to PDR's growing inflow.
For 2022 and 2023, PDR expects inflows of VND 15,000 billion and VND 26,500 billion, respectively, primarily from the following real estate projects: (1) Astral City; (2) the remaining Zone 4 High-rise; (3) Binh Duong Tower – Nguyen Thi Minh Khai Street; (4) Phuoc Hai – Ba Ria-Vung Tau; (5) Poulo Condor Vung Tau, (6) Bac Ha Thanh, and some other projects.
Future growth and development backed up by acquiring potential landholdings
In order to fulfill the mentioned ambitious goal for 2019 – 2023, PDR has prepared its resources, focusing on embracing opportunities in real estate hotspots and rapidly expanding land banks through M&A deals. Up to now, officially included in the investment portfolio, PDR's residential land bank stretches across Phu Quoc (179.5 ha), Binh Dinh (159.4 ha), Quang Ngai (44.2 ha), Ho Chi Minh City (25.6 ha), Ba Ria – Vung Tau (51.53 ha) and Binh Duong (8.2 ha) through various development types: mixed-use, residential, commercial and service, etc., to ensure a comprehensive eco-system in terms of real estate services.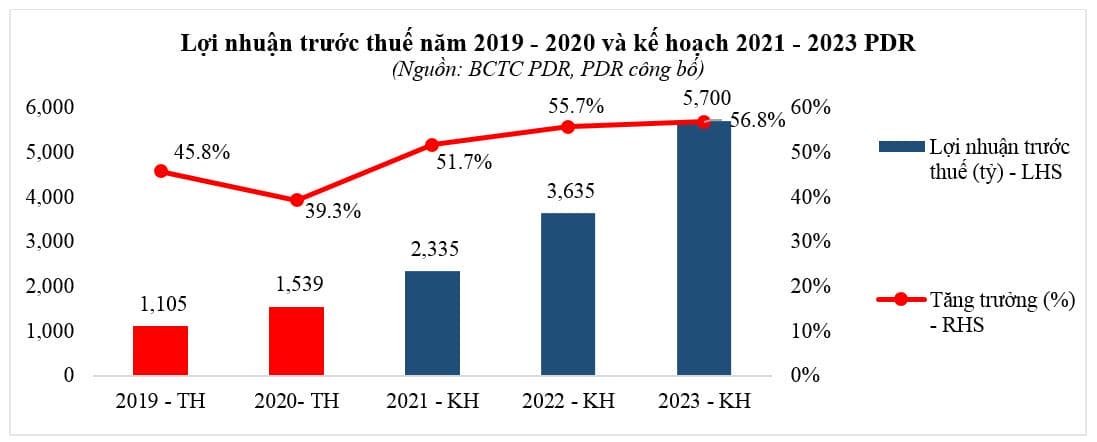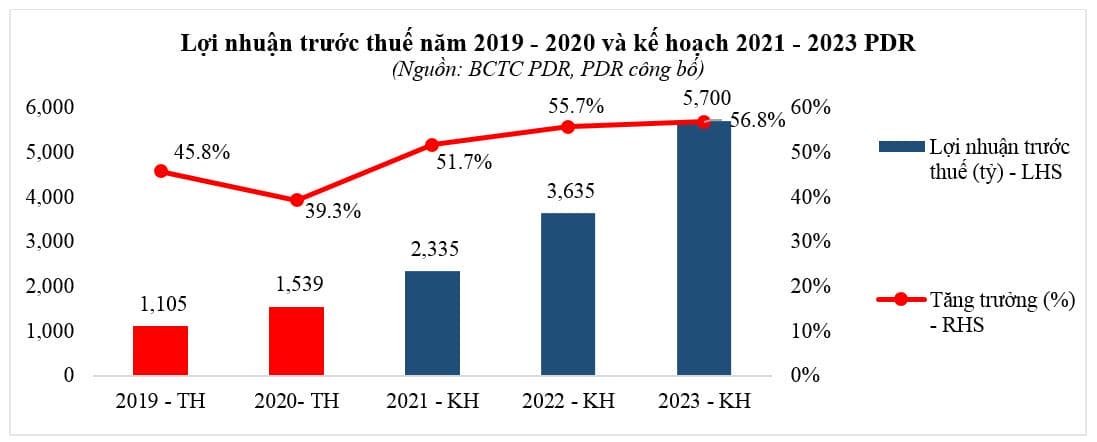 Instead of projects that take a long time to reach commercialization, PDR's consistent strategy in land bank development prioritizes resources to focus on projects with good legal status and quick capital recovery. This strategy enables PDR (1) higher profitability when reinvesting the earned profits and (2) less dependence on significant portions of capital mobilization.
Promote industrial township development
In April 2021, PDR announced an investment on the 1,152-hectare Phat Dat – Dung Quat Industrial Township project on Vo Van Kiet Street – the artery road of Dung Quat Economic Zone, allocating 838 hectares for IZ infrastructure and 314 hectares for residential properties.
Besides, the 24-hectare General Warehousing, Port Logistics at Cai Mep International Terminal, which was launched in October 2020 with an estimated VND 1,136 billion investment, is currently implemented as scheduled and is expected to generate revenue from late 2022. The Company also sets a target for 2021-2025 of increasing industrial land bank to over 4,445 hectares across Binh Duong, Ba Ria-Vung Tau, Dong Nai, etc.
As such, under the direction of the Leadership, PDR's current development is on the right track, generating a solid growth rate, stable positive cash flows, and profit as committed to shareholders at the AGMs.
These achievements are the result of a thorough business strategy, a solid management foundation, a healthy financial capacity, highly qualified human resources, and careful market observation and analysis to come up with the most appropriate and optimal development strategy. These are also solid stepping stones and a premise for the Company to make strong breakthroughs in completing the 5-year target plan of 2019 – 2023 and conquering new heights in the long run.