Following a growth momentum of nearly 60% in 1Q2021 and 111% in 2Q2021, as in the 3Q2021 financial statements, PDR's pre-tax profit reached over VND 760 billion in 3Q2021 (+37.4% YoY), pushing the accumulated pre-tax profit for the first nine months to VND 1,397 billion, an impressive growth of +54.7% YoY.
Thanks to outstanding business results, PDR's market capitalization reached VND 45,270 billion on 14 October 2021, a strong increase of 122% compared to early 2021 (contributing to VN-Index's 26% growth rate that time).
Business growth thanks to flexible adaptation
Investors have high expectations of Phat Dat's impressive growth rate for its sustainability and reliability amid the struggling socio-economic context. Furthermore, at any given time, PDR firmly grasps the situation and turns risks into opportunities, showing flexible approaches to business strategy. Since 2018, PDR has actively shifted to coastal urban areas such as Binh Dinh, Quang Ngai, and Da Nang. By applying the wholesale model in areas with great room for development, Phat Dat expects to speed up cash collection for revenue and profit recognition.
As a result, although the pandemic outbreak in the 3rd quarter of 2021 has imposed many challenges on the market and most businesses, it did not have much impact on PDR's business performance.
In particular, in the quarter, a portion of PDR's revenue came from Zone 4's high-rise section and Zone 9's low-rise section in Nhon Hoi Ecotourism City, enabling a net revenue of VND 1,267.6 billion (-3.7% YoY) and a net 9-month cumulative revenue of 2,391.4 billion (-4.3% YoY). Profit before tax (PBT) reached VND 760 billion (+37.4% YoY) and 9-month cumulative PBT reached 1,397 billion (+54.7% YoY). Profit after tax (PAT) reached 607.9 billion (+38.5% YoY), and 9-month cumulative PAT reached VND 1,111 billion (+54.6% YoY).
Thus, for 9M2021, PDR has completed ~51% of revenue and ~59% of PAT targets set in 2021's plan approved by the General Meeting of Shareholders. Given the current growth momentum, PDR is fully expected to continue its impressive business performance in 4Q2021 and surpass the full-year business targets.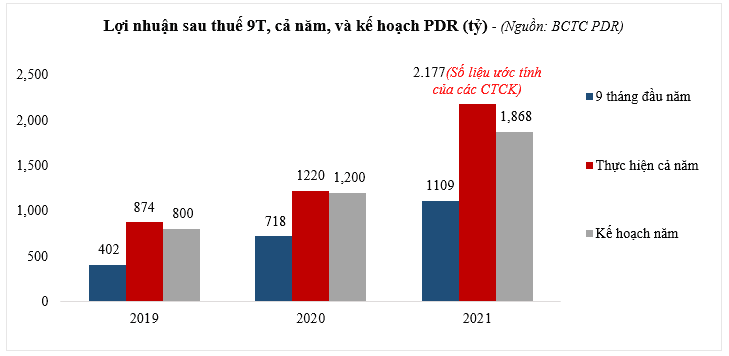 Growth accompanied by a positive financial health for competitive edges, high capital turnover ratio, and stable cash flow
As of 30 September 2021, PDR's equity reached VND 7,761 billion. Besides, leverage ratios remained relatively safe. In particular, the D/E ratio (Short-term Debt + Long-term Debt/Equity) constantly decreased from 0.52 times in 1Q2020 to 0.32 times in 1Q2021 and to 0.28 times in 3Q2021. As a result, growth indicators along with the healthy financial status are expected to create favorable conditions for PDR in the near future, such as the ability to mobilize long-term, low-interest bonds in the international market or the interests among institutional and individual investors to invest in the Company on the securities market. Significantly, the enterprise has earned confidence amongst banks in terms of capital loans and credit financing, creating a solid foundation to ensure high growth prospects in the coming time.
Apart from equity, PDR's total assets also increased to VND 19,676 billion at the end of Q3, up 5.1% compared to Q2/2021 and 26% compared to the beginning of the year.

Apart from equity, PDR's total assets also increased to VND 19,676 billion at the end of Q3, up 5.1% compared to Q2/2021 and 26% compared to the beginning of the year.
By the end of 3Q2021, advances from customers secured a high level of VND 1,578.6 billion (that at the beginning of 2021 is VND 620 billion), accounting for 33.6% of short-term payables – a sharp increase of 14% compared to early 2021.
For the last trailing 12 months, PDR's ROA and ROE were 8.2% and 20.8%, respectively, significantly higher than the average of the real estate industry (6.69% in ROA and 16.98% in ROE) as well as all constituents in the VN-Index (6.51% in ROA and 13.33% in ROE.)
Keep accumulating landholdings to ensure project development and sustain high growth rate in the future
Focusing on the plan to launch new residential products, PDR actively expands its reach to new cities and provinces such as Quang Ngai, Binh Dinh, Binh Duong, Da Nang, and Ba Ria – Vung Tau, which have high potentials in development and quick capital recovery.
Currently, PDR owns various residential landholdings in prime locations across Phu Quoc (179.5 ha), Binh Dinh (159.4 ha), Quang Ngai (44.2 ha), Ho Chi Minh City (25.6 ha), Ba Ria – Vung Tau (51.53 ha), Binh Duong (8.2 ha), etc. To ensure a comprehensive ecosystem for property services, PDR will implement various development types: mixed-use, residential, commercial & services.
Thus, by sustaining the strong growth momentum in cumulative business results as of 3Q2021, PDR has demonstrated flexibility in business tactics as well as its right strategy and great vision. The enterprise also shows its prominence when overcoming the common challenges the COVID-19 pandemic has imposed on the entire economy and the real estate industry. This solid premise enables PDR to complete and exceed the business plan 2021 and achieve more challenging goals in the future.